CFER Labs has collaborated with Why Not Soda on the technical development of their first flavour, Lemon'Mate. We had the chance to interview Nils Schwentkowsi (NS), the company co-founder and business manager, and ask him some questions about the company's vision, business model and, also, his feedback about the collaboration with CFER Labs.
CFER: So the market for craft sodas in Germany is well established, but in Portugal you found that was a big gap. Can you tell us a little bit more how "why not soda" started and how consumers presently perceive the brand?
NS: I saw the soft drink market in Germany changing massively during the last 20 years. Until I went to university there were only the big brands like Coca Cola and Pepsi, but then one, two, three alternative producers appeared on the market with more sophisticated ways of production, with more interesting flavors or just more interesting stories to tell. And now the shelves in regular supermarkets are full of different options. My wife and I we both became soda-fans, because the soda had less and less sugar and became more and more natural with new, interesting flavors.
We have been in Portugal many times before we moved here. We love the country, its people, its nature. But one thing we were missing and we could not find: There were no real alternative sodas on the market. Only these artificial ones full of sugar. So we decided: why not make better sodas here in Portugal – interesting flavors with only natural ingredients, less sugar, bio-certified. And so we did. We left our career, quit our secure jobs and told our friends that we would move to Portugal with our two little daughters to become soda producers without even speaking the language. You can imagine that most of them stared at us saying: why? Well, you know our answer: why not! We believe that one should constantly look for new experiences. They do not necessarily have to be as life-changing as ours. But new experiences make you grow personally and make you feel alive. This is also what we want to transport with our brand and our story.
So, we had a slight feeling how to start without having any experience in this sector. We developed the recipe for our first flavor in the kitchen and then went to professionals to help us to have the right recipe for production. We found suppliers and very important a place to bottle here in Portugal, the fantastic guys from Cerveja Vadia. In June 2018 we produced our first batch, in August already the second. The feedback we received was super positive. Customers loved the refreshing and natural taste and the fact that it had less sugar.
In the end of 2018 we won a StartUp-Accelerator by Startup Lisbon and since then we are constantly growing in numbers of clients and sales. We won clients from the Algarve to the north and were listed in Go Natural as well as Continentes Innovation Food Lab. During the Startup Programm we also met the CEO of Delta Cafes, Rui Miguel Nabeiro. He liked our spirit, speed and most importantly the product. So we decided to run a sales trial in 2019. And now we started working together on a regular basis and they will start to distribute our products. We feel very just very honored to experience all of this – and of course motivated to keep on going. We will launch two more flavors in March and will start a whole family of Craft Soda, which we plan to constantly grow over the next years.
CFER: How do you feel the craft soda market will evolve over the next years both in Portugal as in Europe?
NS: Customers are looking for more "better-for-you-options". They are more conscious about what they consume, but not in an extremist way. They still want to enjoy their lives. And we can also see a tendency towards the identification with local brands. Experience is what consumers are looking for in new products – especially the younger Generations. We deliver the right product for these demands. We use only natural, high quality ingredients, lower sugar and of course bio-certified. We produce in Portugal and we give fruits that everyone know and interesting twist in flavor for new taste experiences.
In northern Europe craft soda or alternative soft drinks are already a big thing and we are the first ones to bring this trend to Portugal. Well, the big player will always play a dominant role, but there is room for smaller producers to position themselves on the market. But most importantly, besides all market potential, for us it is just a lot of fun to develop, produce and sell soda. It is a product with a good spirit. We love it.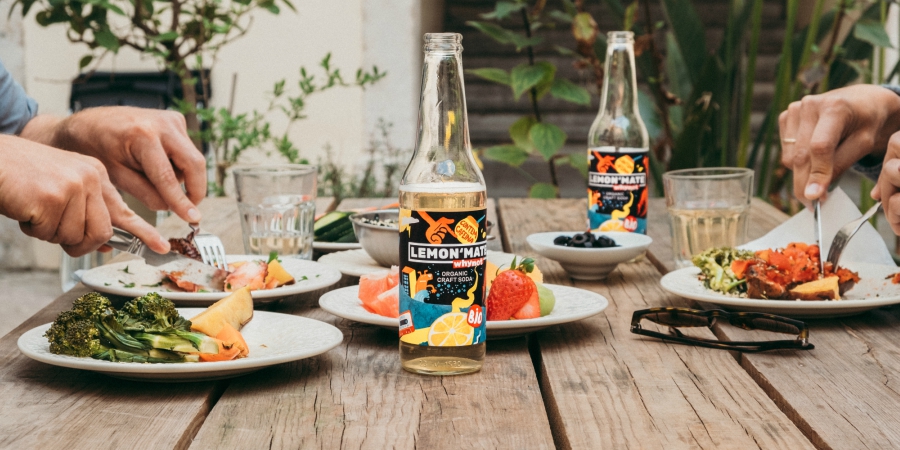 CFER: As a research and innovation company, CFER is helping brands like Why Not reaching the market with even more innovative foods and beverages, while supporting their technical development. Could you describe us the importance of CFER as a technical partner during your trajectory up so far?
NS: As said before, we had help of professionals to make our ideas and recipes ready for production, because making soda in the kitchen is not the same as producing millions of bottles. Of course we are not there yet, but soon, of course. When we arrived here in Portugal we needed someone here, we could challenge our new ideas with, do adjustments to existing recipes, try new ingredients from new suppliers our just talk about questions of production processes. Craft soda making is constant work in progress, because you have to come up with new ideas and make your business better and better. So, we were looking for a partner we could exactly do all these things with. In CFER and especially in you, Daniel, we found a guy who knows what he is doing and we enjoyed running the first smaller project. We can recommend your service for young companies who want to do the next step, but also for bigger fishes, because you guys also have some good ideas.
CFER: As a F&B start-up founder competing on a global, demanding market, how important do you consider product innovation to be in order to gain competitive advantage over similar products?
NS: The interesting aspect about craft soda is that you always have to come up with new flavors – may they stay in your portfolio or just be a seasonal edition. It is like with the craft beers. Go to a Taproom, it is full of interesting references. As a craft soda producer, I feel with soda it is the same. The creative, the innovative win.
CFER: How do you see your brand expanding in the next five years? Are there any strategic, international markets for "why not soda"?
NS: Of course, we have our strategic plan and there are interesting markets, but first we need to make our homework here in Portugal and work hard. If you can make it here, you can make it everywhere. We want to win the Portuguese for our soda experience.
CFER: Many thanks for your time. We wish prosperous growth for your business and we are looking forward for many more exciting "why not soda" flavors!
NS: Live long and prosper – drink more organic craft soda made in Portugal, why not!
Cover picture: in Dinheiro Vivo (Reinaldo Rodrigues/Global imagens)